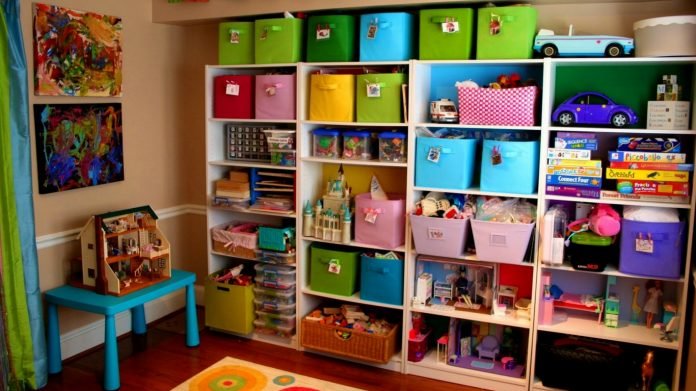 It often looks like a daunting task to keep the children's room clutter-free and this can prove stressful.
Helping to maximize the storage and space in the kid's room is important in maintaining organization.
It is also simple in helping the kid know exactly where all their toys are and the place to put them once they are done with playing.
It is important for the children's happiness that their toys are ready and available after a school play date or for an impromptu party.
One of the most effective ways of keeping a kid's item in one place is the toy tote. Other important ways of storing toys include:
Wall shelves
These help to keep the floors clean by keeping the toys away from the floor. They offer a perfect staging location for the vignettes of the displayed collectibles.
The children love it when they get the freedom of picking and choosing the toys that they want to showcase.
Therefore, it is important to mount up shelves which are within the child's reach.
Cabinets & Open shelves
A combination of cabinets and open shelves is recommended for versatility.
Furniture pieces that offer a combination of cabinets and open shelves offer a perfect solution because the shelves can be used for storing the favorite toys or the display-worthy wooden toys which can be kept within clear view.
The cabinets serve the role of storing other items.
Although built-in units offer great results, hutches, cubbies, free-standing furniture and bookcases play an important role in storing away toys.
The cabinets and open shelves are normally available in a variety of colors, styles, and materials.
Toy Boxes
A toy box can serve several functions. Many of the toy boxes serve the role of a work table. They are perfect in the playroom for doing after-school activities or homework.
They help to store away the supplies of arts and crafts that have been in built-in shelves and drawers to help with easy cleanup.
The toy boxes are also built low, close to the ground to allow the children full access. Some of the boxes are also constructed with a chalkboard tabletop which serves the important role of an educational toy.
Storage boxes are versatile, providing portable storage. It is easy to organize and categorize using these boxes.
Under the Bed
This offers the last frontier. Rolling baskets, drawers, and storage crates helps to keep things well organized.
Under the bed offers the perfect place for storing toys which are not frequently used or toys that consume lots of space.