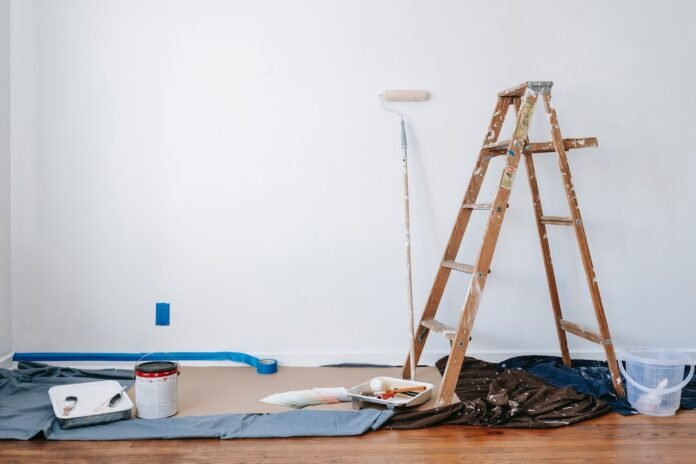 Renovating your home is one of the most exciting changes you can make. You can make your home more functional through renovations. And you can introduce more style with a little change in the design of your home. However, renovating a home can sometimes be a difficult process. If this is your first time renovating a home, it can seem even more difficult. Luckily, there are a couple of ways to make home renovation easier for you and your household members. This can include things like planning your routine and decluttering beforehand. In the end, it's all about staying organized and planning the renovation process so that it is easy and goes by quickly. 
1. One of the ways to make home renovation easier is to plan your routine 
A home remodel can turn your life upside down for a while. To keep up with your routine, you can plan and organize your time and renovations ahead of time. You ensure the renovations succeed when you stay organized at times like these. As for your daily routine, think about what will change. You may have to stay somewhere else during this time. Find accommodations where you'll be able to stay while the renovations are in progress. If you have pets, plan where they will be during the renovations. This can be a stressful time for anyone, including animals. Your pets will be much happier if they don't have to deal with strangers and noise in their homes. If you are renovating the kitchen, plan where you'll make your meals until the renovations are done. Now, your daily routine won't be as disrupted. And you and your household members will stay relaxed during this time. 
2. Create a renovation budget
Renovating your home can cost a lot, so having a clear financial plan is a must when it comes to renovating your home. Plan your budget thoroughly before you start renovating. It will make it clear just how much your renovations cost. It's best to leave some room in your budget for emergencies. Unexpected problems can happen all the time, even when renovating. That's why an emergency budget can make your life easier when renovating. It will be much easier to continue the renovations in case of an emergency if you leave some room in the budget for them. You'll be financially ready to tackle any problem that may occur.
3. Declutter your home beforehand
One of the ways to make home renovation easier is to declutter your home. This commonly overlooked tip will make your life easier during renovations. Your house won't feel as cluttered and messy when fewer things occupy the space. Once the renovations are done, you'll only have the things you need in your home. There won't be any unnecessary clutter taking up valuable space in your home. Your home will look transformed entirely and brand new when it has only the items it needs. 
4. Rent storage during renovations
The best way to make home renovation easier is to rent storage for your things. You will probably completely clear out your home during the renovations. Every room in your home can easily be tackled when there aren't things occupying the space. You will get all the extra space you need until the renovations are done. Best of all, renting storage ensures the safety of your things. You can leave your home knowing your items are safe and aren't at risk of damage during renovations. And your home will be easier to clean after the upgrades are done. This is because there won't be as many things collecting dust and dirt.
Organize the renovation process thoroughly
A renovation process can sometimes take a while. But it can last even longer when you don't create a plan. Create a clear plan of which area you want to tackle and when. Now, you can organize your routine during the renovation period. Think about what you want to renovate in your home. Consult your contractor about which rooms and areas you will renovate first. Create a timeline of the renovations together. You will have a clear view of the renovation process. Making plans during the renovation process will be easier when you know exactly when each part of your home is being renovated. 
5. Prepare for emergencies
Renovating a home comes with certain risks. There's always a chance of something going wrong or the renovations last longer than they should. You may even experience some changes in your personal life, which can prolong this process. That's why being prepared for emergencies is the key to making home renovations easy. Besides an emergency budget, there are other ways you can prepare. If the renovations last longer, make arrangements for where you can stay. If you want to stay with a friend or at a hotel, create a plan. 
6. Make a plan for the trash from the renovation 
When you renovate your home, things get messy. The amount of trash that will accumulate will depend on the type and size of renovations you will be doing. But no matter how small or big of a change you want to make, you will still have to deal with trash from renovations. If you are doing the renovations yourself, this will especially be important. The easiest way to deal with this mess is to rent a dumpster during the renovations. It will make it easy to clean during the renovation process. When the renovations are done, you won't have as much of a mess to deal with.
To sum up
Renovating a home can seem like a lot, mainly because there are many factors to consider. And the renovations can disrupt your daily life. The good news is that there are so many ways to make home renovation easier. Best of all, these tips are just as simple. Ultimately, it's all about staying organized during this process and adapting to the circumstances. You can plan your new daily routine and make this period easy. When you create a plan, renovating your home will be easier for you and your household members. Soon enough, you'll be able to enjoy your newly renovated home.