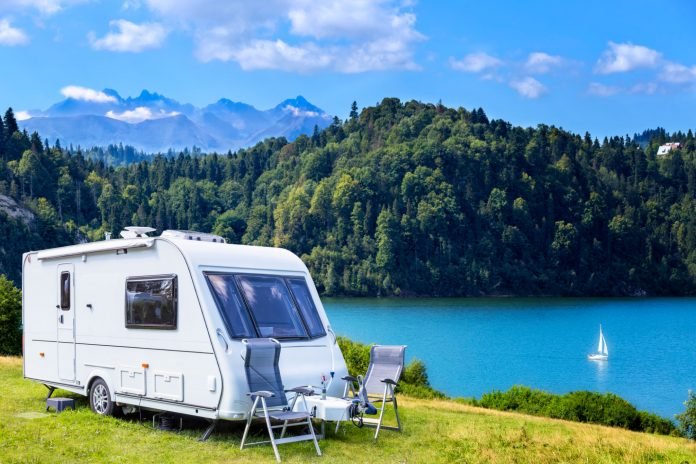 For many people, during this economic crisis, the price of going abroad on holiday is simply too much and taking holidays closer to home can be just as fun.
That's why when the summer is here, you see many people taking their caravans on the roads to new and exciting caravan parks.
The fresh air, the great outdoors and beautiful scenery that blesses the UK is something that many people love to take in and that's why to make the most of it you should buy a few extra special items from a caravan shop so you can enjoy it to the fullest.
Maintain Your Caravan Through the Winter
The expense of a caravan or motor home is such that owners would be foolhardy to leave their vehicles exposed to the winter weather elements without due care and attention.
With extreme conditions such as snow, hail, wind, and heavy rain a regular occurrence at the end of the year, it is vitally important to provide adequate protection to keep it in tip-top condition for the New Year.
Caravan and motor homeowners that use their vehicle for long-distance traveling will need to spend greater time on their vehicles to manage the general wear and tear that invariably accumulates from time on the highways.
There is a wide variety of caravan cleaning products that can help to 'winterize' your caravan or motor home.
Specialist overwintering protection can be sought, which helps to prevent green algae growth and moss build-up, helping the van to stay cleaner and make spring cleaning much easier when the time comes.
Maintain the Exterior of Your Caravan
A simple wash of the exterior of your caravan or motor home can make a good start to the overall cleaning process.
Therefore owning a durable and reliable brush can make all the difference in preparation for 'winterizing' your vehicle.
A flow-through brush is an innovative product, which allows water to flow through the soft bristle head when using the hose connector.
Its extendable length between 120cm and 185cm makes it ideal for cleaning large caravans and motor homes as well as conservatory roofs.
Additional caravanning accessories such as awnings and gazebos also need maintenance after surviving a year on the road.
Various protective cleaners can prevent the build-up of algae and keep them in shape for the New Year.
After thorough maintenance of all exterior areas, a decision needs to be made about winter storage.
If your caravan or motor home is to be stored away outside or in the garden, consider a water-resistant caravan cover that provides excellent protection from the elements.
The caravan cover allows the exterior to breathe to avoid the build-up of moisture.
Take care of your motoring investment with a great selection of caravan cleaning products to maintain your caravan throughout the winter & summer months.
Find out more about the best caravan cleaning products at caravans at comparestaticcaravaninsurance.co.uk that can also be used to keep your home pristine.
Get All You Need for Your Caravan From Online Caravan Shop
A caravan shop will have all the items you could ever want to make your trip away for a weekend or a fortnight in your caravan so much more enjoyable.
For instance, if you like to spend the warm, balmy evenings with a drink or two, then you could invest in a mini-fridge to keep your bottles of beer cool.
You could also place snacks and food in there so you can save on electricity as a mini-fridge is economical and drains less energy than larger fridges.
If you have children then having some cool water and fizzy drinks is a great way to keep them hydrated when they're running around the caravan park with their friends.
Of course, as you're going to be outside enjoying the sunshine then you should lift your comfort levels with an array of outdoor furniture.
Drink holders, chairs, fold-away tables and even awnings to keep you cool are a great investment that will enhance your time away at your caravan.
As the night rolls in, those warm evenings can suddenly turn quite cold later on and this is why many people invest in caravan heaters.
You can choose from a wide range of heaters from a caravan shop which is perfectly suited to your caravan and needs.
If you have a small caravan or simply want to keep your caravan clean and smelling nice, then a portable toilet is another must-buy item from a caravan shop.
They are odorless and save you from having to trek across to the site's bathrooms when it's dark.
Finally, one of the best purchases you can make in a caravan shop is a set of caravan steps.
These make it easier to get in and out of the caravan without the risk of damaging your knees or ankles.
Conclusion
To enjoy your holiday away at your caravan, invest in some items from a caravan shop to make your UK holiday much more enjoyable.
There is a wide range of products you can buy that help you be more comfortable and enhance the safety aspects of staying in a caravan.
You can get in touch with a team of caravan specialists who can help you to enjoy your caravan to its full potential, regardless of its age.
At the Caravan Shop, we aim to bring our customers one of the most extensive ranges of caravan accessories, caravan equipment, and all caravan parts and spares available online.