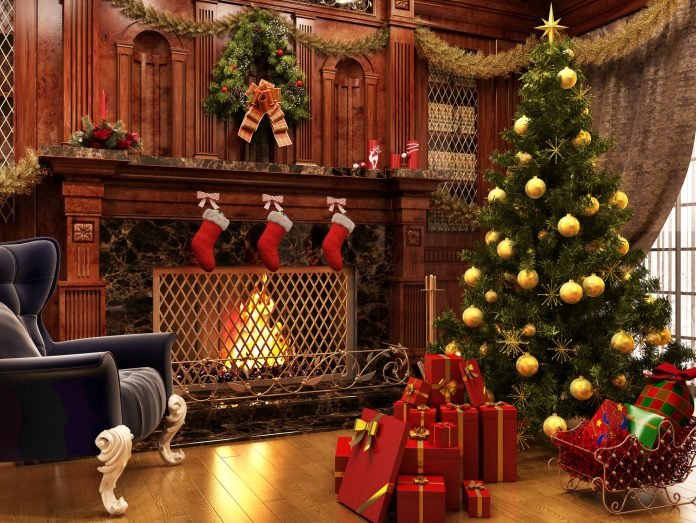 For both children and parents, the holidays are the most awaited time of the year. The love and optimism of the season warm hearts as the temperature decreases.
Christmas is also a great time to let your imagination run wild and express yourself through the design of various festive decorations.
While trimming the tree and stringing lights are traditional holiday decorations, there are a plethora of other wonderful Christmas decoration ideas you can use to fully personalize your home this year.
These enjoyable ideas can also be used as homemade presents to give to your loved ones during the holiday season.
This holy celebration was given new meaning and rituals.
However, the introduction of greenery and plant life into the household, as well as pine branches and berries decorations, the fasting, and cleansing time prior to it, the lighting of the celebratory dinner table, and the dance practices and decorations – are still practiced in some parts of the world for the purpose of warding off evil spirits.
Thus, the decoration and preparation of our homes and ourselves for the upcoming Solar and religious holidays is woven into our culture.
10 Christmas Room Décor Ideas
1) Do-It-Yourself Advent Calendars
From December 1st to December 25th, Catholics observe Advent by lighting a candle at night.
This festive countdown to Christmas, on the other hand, can be done in a multitude of forms and embraced by families who like to make it their own.
An advent calendar is a perfect way to promote family time and build up enthusiasm for the big day,
if you want to make a thematic magnet show on the fridge that is convenient for the little ones to view, create little gift bags labeled with each day of the month and give them out to family, or arrange a merry candle display in seasonal colours.
2) Christmas Dining for Any Occasion
The best decorations are both visually appealing and practical. It's easy to make your own handcrafted Christmas ornaments and dress up your dining room for every dinner.
A chandelier or other angled light fixture can be hung with balls of holly and mistletoe accented with sparkling gold jingle bells on a Santa Claus-red cord.
A plain wreath of twigs and ruby red festive berries adds a warm touch to every table and serves as the ideal container for thick vanilla or holiday-scented candle.
Dress up your everyday plates with beautiful holiday napkins made from a rich red cloth and kept in place by golden napkin holders atop a matching table runner to complete the look.
3) Festive Floral Arrangements
Flowers are a beautiful way to breathe new life into your home, and the holidays have such a vivid colour palette and wonderful scents that they can really revitalize every room.
Sticking to the Earth's natural tones and rugged woodland is the perfect choice for Christmas because it's all about simplicity.
While poinsettias and holly are traditional holiday decorations, there's a lot more to work with.
A simple pine plant can be put on the porch and adorned with wooden Christmas trinkets and ribbons.
Red-and-white amaryllis can be mixed into a candy-cane motif, and bold-red amaryllis secured with silvery bows create lovely vibrant centerpieces.
Fresh evergreens and moss, along with thick-petaled flowers like anemones and peonies, create lovely Christmas wedding bouquets.
4) Highlighting Your Home with Warm Accents
The forests' warm, lush colors are a great way to add some wintery forest cheer into your home this holiday season.
Invest in a plush, snow-white faux fur throw that can be spread over your bed, draped across the back of your sofa, or brought along for comfort on a sleigh ride or wintery picnic to mimic the wilderness.
Indoor metal lanterns, gingerbread homes, and homemade ornaments can be placed on desks and tabletops to act as a heartfelt reminder about what the holiday is all about.
The best thing about any of these easy yet eye-catching accents is that they can be repurposed and used during the year to bring a touch of Christmas cheer to your house.
5) Modern Decor Delights
Although wooden accents, thick garlands, and candles are popular for the holiday season, they aren't for everybody.
Sees whimsical Christmas ideas would certainly strike a nerve if you want a more chic and upbeat Christmas decor.
Rather than using the traditional red and green, Perhaps a holiday in the retro era, with winter greenery strung around the banister and Knitted stockings dangling from the railing?
Bring in a cozy fuzzy rug and a couple of hand-sewn Christmas pillows (available at most retail stores during the winter season) for a merry retro Christmas that the entire family will enjoy.
6) Personalized Christmas Wreaths
The arrival of the holiday season is signaled by a Christmas wreath.
Hanging one on your door to greet guests and invite them into your home is a great way to show off your Christmas spirit, and making one yourself is a great way to show off your craftsmanship.
Christmas wreaths come in a variety of sizes, ranging from the usual bright evergreen with a large red bow to a holly jolly wreath with festive Christmas baubles.
Wreaths can also be strung with lights to help illuminate your outdoor show at night.
7) Christmas Kitchen Makeover
Food and the holidays go hand in hand, so don't forget to decorate your kitchen for the holidays! You don't need a lot of money to turn your kitchen into a winter haven.
Dish towels and oven mitts can be replaced with Christmas-themed versions that can be found at every home goods store and A rich evergreen garland with red bows and twinkling lights can be draped over the tops of cabinets to create a cozy cabin atmosphere in your kitchen.
To stick to cupboard frames, draw or print red or white snowflakes and cut them out. On countertops and in corners, decorative mini trees or nutcrackers fit well.
8) Color Pop Christmas Decor
If you have a black mantelpiece or other dark signature items in your house, the perfect Christmas decorating strategy is to use vibrant bursts of concentrated color to make your dark mantelpiece or furniture stand out without detracting from the overall theme.
A festive wreath made of Christmas bulbs should be hung over the fireplace or on the wall, along with Christmas streamers made of patterned paper or ribbon, and the tree can be decked out with bright lights and a bold topper.
9) Holiday Tabletop Accents
The tasty dinner you've worked so hard to prepare isn't the only thing on the Christmas table.
It can also be a fun way to delight visitors with some fun decorations and set the stage for a fun and lighthearted dining experience.
Place cards made from ornaments that visitors may take home as party favors, cups with ribbons and tiny decorative bulbs tied around the base,
a transparent lantern filled with bright ornaments that complement your holiday colour scheme, and floating tea candles in small glass vases or mason jars with sprigs of holly are all examples of festive dining room decorations.
10) Handmade Christmas Ornament Wreath
Ornament wreaths are flexible items that can be hung both indoors and outdoors, and the best thing about making your own is that you can scale it down to any size you like and customize it to suit your specific Christmas decoration theme.
Christmas ideas serve as a jumping-off point for your own imagination, and the word "Christmas wreath" allows you to create everything from a gigantic and regal white and silver wreath for the front door to a small but distinctive colorful wreath in your child's favorite colours to hang in their bed.