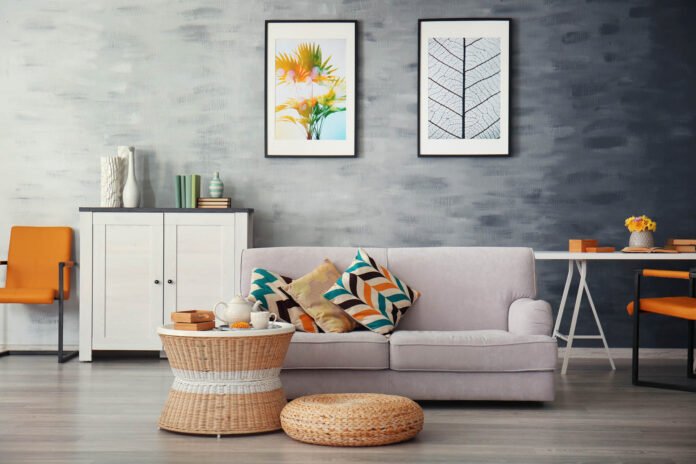 It's not always easy to come up with great hallway designs for your house, however, it should be.
The hallways in your home warrant significant architectural consideration, from the first space any visitor sees to the circulation zones between spaces.
They're not only underestimated, but they're also lacking in light and lack a natural focal point, necessitating some good interior design know-how to transform them into artful rooms.
A hallway should not only look welcoming in and of itself, but it should also set the mood for the rest of your house.
Make it a priority on your decorating list: this is a space where you can be daring and display your style.
The hallway of a home is the first sight visitors get of it, so make a good first impression!
The only thing that comes close to creating a stunning entrance is smart corridor interior design. You want the house's first space to be as practical and attractive as possible.
Fortunately, an entryway is small enough that you can play with various styles to fit your personality.
So, make the most of your room with our checklist of 8 key hallway and entryway interior design ideas.
Storage
The entryway is the last thing you see on your way to work in the morning and the first thing you see when you get home.
As a result, the appearance and functionality of this space will influence your overall mood.
To give the family a regular boost, keep the hallway interior design well-organized with smart storage solutions.
Coat rack
A coat rack is a must-have for any home and, with so many styles to choose from, it's also a great hall decoration concept.
Choose a coat rack design that complements the style of your home, ensuring that it is durable and solid while remaining proportionate to the available space.
Key area
With the aid of a dedicated key bowl or key rack, you'll never lose your keys again. If you don't have any extra room, you can even use it as part of your coat rack.
Cubbyhole
For holding random things sorted, cubbyholes or a slimline shelving device with pull-out boxes are perfect. Use a box for each category, such as mail, children's toys, shoes, and so on.
Big baskets
A large wicker or rattan basket placed next to a slim end table is not only attractive but also functional.
Keep odd-shaped things like boots and soccer balls tucked away, but make a point of sorting them out in the evenings or on weekends.
Decorate With Your Favorite Color
With the addition of colour, you can give this often-overlooked room a little love.
Interiors are given a natural depth and earthiness by saturated shades of cobalt, malachite, and verdigris, which are combined with botanical motifs.
A low-hanging pendant light is an excellent way to draw attention to the furniture below.
Avoid using too many different shades of colour when adding colour; sticking to one hue for wall and floor treatments can be very effective,' says interior designer Tara Bernerd.
A dark color will make neighboring rooms feel larger, while a light pearlescent color will make the hall feel larger while still reflecting light.
Another way to make a small space feel bigger, particularly one with a low ceiling, is to use different colors on the walls and ceiling.
To add height to the ceiling, use a lighter colour. Add a fun element like a bright stripe to make space feel bigger than it is!
Create The Right Mood With Lighting
Hallways are usually dark and lack natural light. Increase the amount of light in your small room to make the most of it.
In a narrow hallway interior design, skylights are ideal, while panelled glass doors are ideal for smaller spaces.
Alternatively, to add a contemporary look, consider replacing a wall in a very narrow and dark corridor with a panelled glass wall.
Since changing the configuration of a small space can be challenging, use decorative elements in your artificial lighting.
Pendants or chandeliers fit well with high ceilings and often serve as beautiful hallway decor, while wall sconces are suitable for low ceilings.
Create Interest With Objects
A tight symmetrical arrangement, such as this series of woven African baskets displayed on a French bistro table, sets the tone the moment you step in the door.
The earthy colors of the baskets complement the botanical print's frames and the amber-colored walls, and a stunning chandelier completes the look.
Extend some of the décor features to make the entryway appear larger.
If an entry hall leads to another space, keep the wall colour or a particular floor finish, such as tiles, consistent from the entry to the next room.
Wall of Mirrors
Placing a large mirror on a wall is one of the simplest ways to visually expand a small room.
Use an ornate gilded mirror flanked by velvet footstools to create a glamorous hallway interior design.
Looking for a unique way to decorate an empty hall, cover the entire wall with mirrors to create a funky area where members can check their appearance as they enter and exit the building.
The area is covered in diamond-shaped mirrors to give the wall an unexpected twist, while the floor is sparkling white with a grey outline.
Add Interest With Wallpaper
Build a focal point at the far end of a long, narrow hallway with a panel of feature wallpaper or family photos to add interest.
The revival of rich, bold prints is celebrated in this scheme by displaying them in a neutral, pared-back environment for an easy-to-live-with look.
A family tree set up in the entrance hall is a fashionable way to present all members of the family to visitors in a formal manner.
The Scandinavian-style arrangement entails painting the largest portion of the wall green and then drawing a rough outline of a tree on it.
To highlight the members, family photos may be put at odd and even angles across the divisions.
Flooring
Since the hallway receives the most traffic in the house, invest in durable flooring.
A non-slip floor finish is preferable, but if your home has a single floor finish, a non-slip mat or hallway runner will suffice.
However, the traditional style hallway layout is given a classy air by the use of two flooring materials: wood and tiles.
The spacious hall has been given an artistic touch by interior decorators.
Wooden Outlines
The warmth of wood and the inviting atmosphere it creates in interiors when finished in its rich hues.
Wood has been used liberally in this hall for doors, open shelves, dividers, and moldings on the white walls to add color.
While lightly varnished wooden doors are considered rustic, they have been artfully incorporated into the design with an Egyptian-style vase filled with white flowers and twigs.