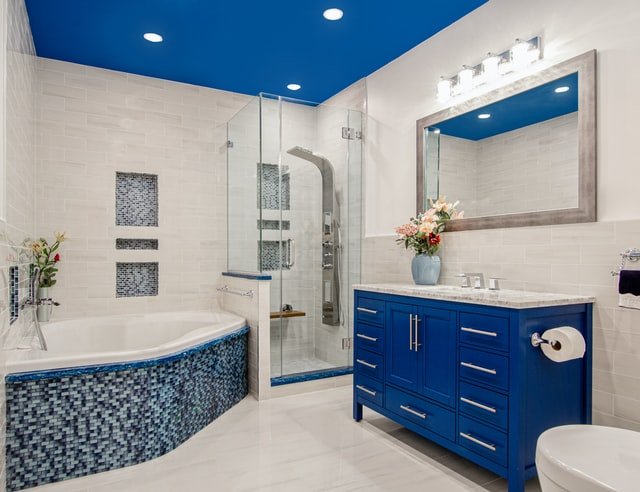 With the arrival of spring, you might feel the need to give your home a well-deserved refresh. But where to begin? If you want to do a renovation project that will increase the value of your home, we recommend starting with the bathroom. It is one of the most used rooms in every house, despite its sometimes small size. As a result, before beginning a bathroom remodel, there are some questions that you should ask yourself. The answers to these questions will help you make informed decisions and avoid common remodeling pitfalls. So if you like to get it right the first time, here is what to consider.
Can I afford a bathroom remodel?
Any remodeling project should start with a plan. The more organized you are, the more likely you will have a successful outcome. As a result, you should think of all the things you will need for the project and how much they will cost. That should be the first step of any remodeling plan, making a budget. So, grab a piece of paper and a pencil, and start writing down the supplies you will need. In addition, if you want to change the bathtub, toilet, mirror, or anything else, write it down too. Don't overlook the small things, such as light fixtures, plumbing fittings, outlets, and switches. Even if they don't cost a lot separately, they can become pricy altogether.
After you have written them all down, start researching the prices. Look on the internet, visit supply stores, and ask your friends and family for suggestions. If you know someone who just remodeled their home, they might be able to tell you where you can get good deals. When you have at least approximated pricing for everything you will need, it is time to draw the line. Now you will know if you can afford to begin a bathroom remodel or if you need to postpone it. However, remember that you need to have some extra money put aside for unexpected situations.
How much space do you have?
When you ask yourself this question before beginning a bathroom remodel, the answer can help you plan out the process better. Knowing how much square footage you have, for example, makes it easier to evaluate expenditures. If you measured everything twice, you know exactly how much of each material you will need. You will organize everything much better.
On the other hand, knowing how much space you have in the bathroom can help you plan its layout. If your bathroom is small, a shower would be better than a tub. Also, if you are a large family, you will need to make your limited space work for everyone's needs. Therefore, it's good to know if you have space to add more furniture or if you need to use shelves.
Who will use the bathroom?
If you have small kids, you will need to child-proof the bathroom. For instance, you will need to keep the toiletries out of reach and ensure the floor doesn't get too slippery. So, you will need to install high shelves and maybe change the flooring. Your bathroom renovation project might even involve the installation of a gate at the entry.
If there are elderly using the bathroom or people with disabilities, you will need to make the bathroom more accessible. Install a shower bench and grab bars, make a curbless or walk-in shower, and add clearance beneath the sink.
In short, you will know which bathroom essentials you will need based on who will be using the bathroom.
What materials are the best for a bathroom remodel?
Bathrooms are the rooms in our homes that suffer the most temperature changes. They are also the rooms with the highest moisture and mold issues. As a result, when you want to do a bathroom remodel, you need to ask yourself what materials you should use. The answer is quite clear on this one. Never use the same materials as you would in your kitchen or bedroom. Those are different rooms with different humidity and temperature levels. Instead, look for materials that are suitable for humid areas. And if you are concerned about how your bathroom will look if you use such materials, don't worry. Water-resistant materials look just as good as regular ones. If you want a rustic bathroom, you can use non-porous wood materials. Or, you can choose to work with marble, granite, quartz, porcelain, and the list can go on.
If you don't have a very generous budget, there are still enough options to renovate and decorate your bathroom as you wish. Vinyl tiles for floors, wallpaper for walls and furniture, or a glossier paint finish. These are simple and inexpensive ways to refresh your bathroom and keep it looking good for longer.
How much time do you have for the bathroom remodel?
One of the most important questions to ask yourself before beginning a bathroom remodel is if you have time for it. Even if your bathroom is tiny and seems easy to handle, a remodeling project can become unexpectedly challenging. For instance, while replacing the flooring, a pipe could burst. Or you could accidentally touch an electrical circuit while drilling the walls. If you find yourself in a similar situation, you must prioritize the more pressing issue and postpone the remodel. And that can mean many days in a row, if not weeks.
In addition, if you are remodeling after work hours or on weekends, expect it to last for a while. You might have days in which you want to rest instead of working after you have returned from your regular job. At the same time, you need to realize that while the bathroom is in the remodeling process, you need to find alternatives. Showering at friends or family and using a neighbor's bathroom are short-term options. As a result, you will need to know when and how long the shower and toilet will be out of use.
Bottom line
You will save precious time and money if you ask these questions before beginning a bathroom remodel. As you can see, the answers can help you make a better budget estimate, organize the space better, and make it suitable for anyone who will use it. It can also help you better plan your time and determine whether now is the best time to begin the project. And it is a great way to ensure that the project starts and ends as you want.