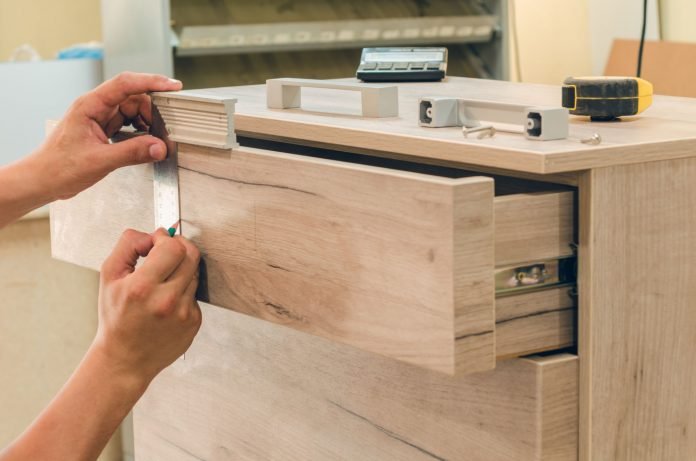 You're probably curious how to get rid of old, broken furniture responsibly and conveniently, if you're dealing with collateral loss after a natural catastrophe, restoring furniture that's been damaged by pets or teenagers, or just trying to upgrade worn-out furniture.
Getting rid of aged, damaged furniture can be difficult, depending on your location's recycling choices and the extent of the damage to your furniture.
Just used furniture in good quality should be donated or sold, be honest.
There are also options for getting rid of your sectional sofa or guest bed whether it has cracks, bruises, tears, streaks, scrapes, water damage, or pet soiling.
Now you do not need to worry about your old or broken furniture…
There are 5 DIY ideas you can follow these ideas to make amazing useful things from your old or broken furniture.
Ladder as Pot Rack & Towel rack
Pots and pans are heavy and take up a lot of space, so storing them can be difficult. Hang pots from your kitchen ceiling with an old ladder or even a wheel.
Ladders must be durable in general, and this is especially true when hanging pots and pans over your head.
You may stain the ladder to fit your cabinets or keep it natural. Hooks are drilled into the sides, but the rungs can also be used as hooks.
The top of the cabinet can be used to store small items. Partially damaged ladders can still be repurposed as a useful medium.
For a towel rack, choose one of the larger rungs.
A smaller one can be used for hand towels and as the foundation for your toilet paper roll holder to maintain consistency.
You can always play with different stains and paint colors to match your current decor, or even paint flowers or patterns on the sides.
Trunk as Patio & Coffee Table
Painting an old trunk a bright color and converting it into outdoor furniture is a great way to upcycle it. An old trunk was used to make this table.
The legs added to the trunk's underside to lift it to table height, and it now sits on a patio. You may be able to repurpose these into end tables.
Stacking antique suitcases in the corner can serve as a stylish side table for the living room, or you can use it as a smart bedside table or nightstand when needed.
Those who want to use the old trunk as a decorative piece can pair it with appropriate accessories to create a lovely focal point.
The old, converted suitcase works wonders in more ways than one, whether as a plain bookstand or a unique console table.
Round Wooden Side Table
You do not need to be concerned or waste your old coffee table or chair if it has broken. You can now make a new round wooden side table in just a few hours by yourself.
This one-of-a-kind round side table can be made by you. This unique table is constructed from hundreds of small pieces of old table wood that have been glued together in layers.
Each piece is a small curve that, when joined together, forms a circle!
Imagine the discussions your friends and family will have when they hear that this table was handcrafted by you.
Using a template to ensure that the components are all the same size and shape, giving the table a neat appearance.
Mini Greenhouse and Plant Holder
With a few parts of an old window, you can build your own mini-greenhouse. These pieces, when arranged correctly, can be used to create a convincing miniature greenhouse.
It's the ideal spot for a few potted plants to add some personality to your greenery arrangement.
This can be done by Attach thin strips of wood cut to the length of the window bases to the bottoms of three of the four windows.
Cut one of the wood strips an inch shorter on either end so that the windows will still fit together as a square; this strip will be connected to the back window.
Screw the wood strips together, being careful not to damage the glass. Place the windows on their bases and connect them with two L-brackets at each corner.
Use two antique hinges to attach the fourth window to the front of the "box," making it a door. Fix an old door handle to the front of the door.
After that, construct the roof. Decorative shelf brackets in the eaves and pretty finials on the top add even more stability and style.
After you've secured the roof to the walls, add antique ceiling tins to finish it off. Now it's time to start planting in this greenhouse.
Tall-Handled Caddy for Top of Fridge
This tall handled caddy tray is simple to produce. This tray can be made out of old or broken furniture wood.
Great things can happen when style and function collide.
This tall-handled caddy is ideal for reaching hard-to-reach areas, such as the top of the refrigerator. This piece will also look great on a high shelf or over a large cabinet.
You can use this caddy to store objects that need to be accessed, or you can use it to carry decorative items and make a statement.
The best part is that it can be used for many purposes. For kids' art projects, fill it with magazines, bottles, or crayons.
The options are limitless. Use the four cuts from the 1 x 3 and a square to align the joints, a clamp to hold it in place, wood glue on the ends, and nailed a long piece to a short piece to create this.
This process was repeated for the remainder of the photo. I nailed the 1 x 4 bits to the inside bottom of the frame for the inside.
To mount the handles, drill a hole in the middle of the top. Then I used glue to adhere one to the boxed frame and nailed it in place.
I sanded the tray and filled the nail holes. Then, to give the tray a special look, add wood strain to it.
You can now use the tall handled caddy tray to store your belongings.