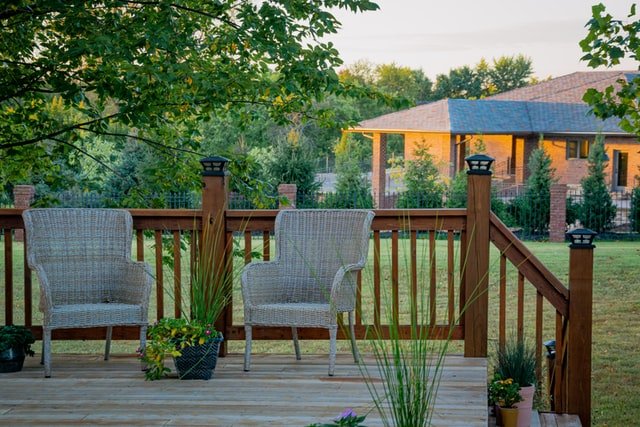 Living in a big house has its perks, and enjoying the outdoor space is certainly one of them. Summer is coming, so it's the perfect time to roll up the sleeves and transform your outdoor living space in a few simple steps. Creating a new look for your backyard will inspire you to spend more time outside and invite more people over for entertainment. A few simple ideas, original details, and affordable repairs can make anyone's yard look inviting. Instead of using the outdoor space for storage and old furniture, try out some of our ideas for transforming your outdoor living space. Let's take a look at how you can transform your backyard into a place your family and friends will love to be.
Think of minor, affordable repairs
Remodeling your yard doesn't have to be an expensive project. Depending on how big your budget is, you can do just some small repairs or create luxurious outdoor space surrounding your home. If you are on a tight budget, the best thing to do is to make a list of potential repairs. Fixing the driveway, doing some paintwork, and updating your porch furniture can be one of those. There is always an option to repair damaged concrete on your driveway or install new wooden planks on the porch.
You will not need a lot of money to make your yard look tidy and inviting. Trimming the grass, clearing out the space from unnecessary items, and adding some color could do wonders for your yard. Affordable repairs will not take much of your time and they'll still freshen up your outdoor living space. If you plan to renovate your patio furniture, don't forget to place a few colorful pillows and blankets.
Create a cozy place for family and friends
A family home is a place to get some rest but also to enjoy the company of family and friends. Creating a cozy corner in your yard will only require your imagination. If your budget is limited, you can use a few pallets and some paint and create a new seating area. One or two lamps and potted plants will do magic!
If this is the way you want to transform your outdoor living space, make sure to prioritize the furniture pieces. This should be the place where you can relax, drink a glass of wine or read your favorite book. Choosing pastel or earthy colors will transform any outdoor space into a modern-looking patio.
Bring flowers and lights
When it comes to outdoor spaces, the first thing we think of is sunshine and greenery. No matter how big or small your yard is, placing potted flowers or hanging plants will make it look refreshing. Making a stylish patio can be simple–all you'll need is a few outdoor lamps placed in just the right places. You and your friends can enjoy summer evenings and long talks in your fresh-looking yard.
To create a visual impact, consider choosing a corner that will become eye-catching. You can surround furniture will small floor lamps or do the same with hanging lights. Installing a gazebo or a pergola will protect your plants from the sun during summer and make your lighting fixtures stand out at night.
Transform your outdoor living space by adding a comfortable corner in the shade
Speaking of gazebos and pergolas, these things seem to be a part of every modern patio these days. Not only do they look romantic, but they have a practical purpose, too. To create shade during hot summer days, a gazebo will do the trick. This project will cost less than you might think since gazebos are made out of different materials. Installing a gazebo or pergola will make your outdoor living space look inviting and cozy.
If you prefer working with what you already have, you can always update your existing porch. A DIY furniture project will be the cheapest option, but it will take some time to finalize. Adding a fresh coat of paint, remodeling old wooden floors, and placing new pillows and blankets will do the trick. Consider placing a daybed on your porch or a modern-looking swing if you love spending time outdoors. Creating a comfortable corner in the shade will not have to be expensive and will transform your outdoor living space for sure!
Create an outdoor home gym
One of the best ways to make the most out of your outdoor living space is to install a home gym. This project can be simple and include a few workout accessories or become a fully equipped outdoor gym. Whether you enjoy a full-body home workout or love doing yoga in the morning sun, this project will help you stay in shape easily. An outdoor gym will save you a lot of time, but it will also help you enjoy fresh air during your training. Home gyms are becoming more popular every year, but not a lot of people have room to build inside the house. A gym is an awesome way to transform your outdoor area.
Give your outdoor living space some dimension
Whichever way you decide to transform your outdoor living space, you can always make it look original. Creating separate corners in your yard will visually expand the space and give it some dimension. One of many simple ways to do it is to place stepping stones and create a path through the yard. If you prefer concrete or wooden boards, a few original lighting fixtures will do the trick.
Diving the space with different materials will make your yard look original and give it dimension. And the best part is–this project will not require a lot of money. Take a look at some exterior ideas online, write down your plans and calculate your budget. Whether it's an outdoor gym, a place to hang out with friends and family, or your personal Zen garden, there are plenty of ways to transform your outdoor living space and make it look fresh and inviting!